2. Marmaris

MARMARIS INTERNET CAFE
Am Stadtausgang der Netsel-Marina über die kleine Brücke und gleich nach rechts am Fluss entlang etwa 200 Meter. Azmakbasi Caddessi (Koylu Pazari Karsisi Yat Limani)
Telefon (90) 252 413 7237, Fax (90) 252 417 1805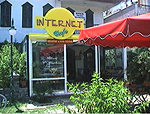 8 Computer. Internationale Telefon- und Faxanbindung. Cappucciono Bar. Täglich frischer Kuchen.
E-mail: cafe@marmariscafe.com.tr Internet: www.marmariscafe.com.tr
We are located near the river which runs through to sea between Netsel Marina and fruit & vegatables market, just 50 meters from Netsel Marina foot bridge.
From the Ataturk Statue: enter to the street of Post Office and walk 200 meters through to fruit & Veg. market, just turn right when you see the river.
From the Cesme Square in the Old Bazaar enter to Bars Street at the end
of the street turn left and Just walk 20 meters.


3. Bozburun: SABRINAS HAUS

Weit ab vom Alltag, in einer entlegenen, von der südlichen Sonne und der lichten Bläue der Ägäis beglückten Bucht liegt ein Hotel, dem die Bezeichnung Hotel kaum gerecht wird.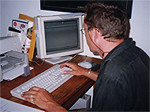 SABRINAS HAUS ist mehr: ein gastliches Refugium, ein einladendes Unikat mit ganz eigener Atmosphäre. Keine Autostraße führt direkt dort hin. Am besten erreicht man die Insel der Ruhe mit dem Boot.
SABRINAS HAUS: Ein Hotel so individuell wie seine Gäste. Nichts liegt hier ferner als Massentourismus.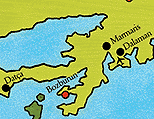 Hier können Gäste und Yachties an einem speziellen Mail-PC ihre E-Mails abrufen und auch mal im Internet surfen. Und dazu einen von Sabrinas köstlichen Cocktails geniessen.
Adresse: SABRINAS HAUS, 48710 Bozburun/Türkei, Tel. 0090-(0) 252 456 2045, Fax 0090-(0) 252 456 2470
E-Mail: sabrinashaus@superonline.com Internet: www.sabrinashaus.com
Ab hier alle Internet-Cafés in alphabetischer Reihenfolge der Städte an der Küste:
Antalya: Greenpoint internet&ice cafe
Gulluk cad.Cankaya 2 apt.Kat 2:/5, 07100 Gulluk / ANTALYA / TURKEY, Tel +Fax : +90 242 2444984 Pbx(10)
Hours: 08:00-24:00 Winter, Summer: 24 hours open. Price /hour: 300.000 TL = 0.67$/1 hour
Email: greenpoint@aidata.com.tr
Greenpoint has 25 terminals connected to the internet. 512kbps leased line connection.

Antalya: Bilisim Internet cafe
Cumhuriyet Meydani shopping center (down in the park near the statue of Ataturk), Phone: 0.242.243 87 63 Fax: 0.242.243 87 64, Price: about $5 US per hour.

Ayvalik: ABIS Internet Cafe
URL: http://members.tripod.com/~ayvalik/abis.htm
Ataturk Caddesi Nazar pasaj No:23/4-14, Phone: (266) 312 97 16 - (266) 312 22 75 - (266) 312 55 41
Email: ayvalik1@superonline.com Hours: 09-19 Monday-Saturday URL: http://www.teknoshop.com.tr/meetnet

Canakkale: ANZAC House


Cumhuriyet Meydani No.61, Canakkale 17100 Turkey Phone: 0090 286 213 59 69 Fax: 0090 286 217 29 06
Email: hasslefree@anzachouse.com URL: http://www.anzachouse.com Price/Hour: USD$ 4
Hours: 24 hours per day 7 days per week
ANZAC House is a hostel near the WW1 Gallipoli battlefields. Travellers come here to stay and take tours of Gallipoli. we have now added internet facilities (3 PC's) to our cafe on the ground floor. All welcome.
Fethiye: SuperOnline Hot Mail Internet
Avukat Ali Gonen (next door to Hotel Plaza)
An Internet facility which is open to the public. Although it is not , strictly speaking , an Internet Cafe it is open to any member of the public during normal office hours.
Göcek: Magic Marina, Yat Limani
etwas östlich direkt am Hafen gegenüber der kommunalen Marina.
Istanbul: The Orient Hostel
Yeni Akbiyik Cad. No:13, Sultanahmet/Istanbul 34400 Turkey, Phone: +90 212 518-0789 or 517-9493 Fax: +90 212 518-3894, Hours: MTWTFS: 09:00-24:00 Sunday: 12:00-24:00, Price/hour: 80c per 10min and an hour is discounted to $4.
3 terminals and advertise AOL mail software, mIRC, and ICQ. And FAST internet access available for guests and public use. software. WWW, e-mail and Telnet. Expert help. 50m from the wall of Topkapi Palace, 100m from The Blue Mosque.
Email: orienthostel@superonline.com

Istanbul: Cafco Internet Cafe
Cafer Aga Mh. Sair Latifi Sok. No:17 Moda Kadikoy-Istanbul, Phone: 90 216 449 19 93 Fax: 90 216 449 19 97
Hours: 11:00-24:00 (Opened all day), Price: $2.5/hr, (We are charging by minute)
First internet cafe of Istanbul Anotolian side. Cafco has 14 terminals connected to the internet.
Which is available on internet, is available at Cafco and plus network games and expert help.
Web site design, hosting is our another work. If you become Cafco Club member, you will have your own email address and homepage.

Istanblul: Backpackers Internet Cafe
Yeni Akbiyik Cad. No: 22, 34400 Sultanahmet-Istanbul, Tel: (0212) 638 63 43 or (0212) 638 63 44 Fax: (0212) 638 14 83
We currently have 10 terminals. We have the fastest internet connection you can get in Turkey. Our cafe is located right in the centre of the called Sultanahmet area. We have www, email, telnet, chat, and also office programs.
Email: backpackers@turk.net

Istanbul: Yagmur Cybercafe
Seyh Bender Sokak, Tünel, Phone: (+90) (0)212 2923020, Hours: 0900-2300 Price/hour: 3 $
The newest, nicest, most central and cheapest of the Istanbul Cybercafes, The cafe has a fast leased-line connection, and offers a range of computer services from e-mail to scanning.
A road map (essential for finding the Yagmur back street) can be found at the Cafes Website.
Email: cafe@citlembik.com.tr

Istanbul: SINERA INTERNET CAFES
Istiklal cad. mis sok. no: 6/1 Taksim
Phone: 0(212)5162282 Fax: 00902125162281
Email: erguld@hotmail.com
Price/Hour: per hour 3 $, minimum 15 min.
Hours: 10:00 - 24:00 week days 10:00 - ... weekend .or up to customers;
7 computers, all PII, fast internet acces (LAN), Neoplanet internet browser(the newest internet browser in compilation with IE.4) - here you can find Caffe-Frape, Fruit Salad, Cappuccino(fresh not from powder) and a lot of other god stuff...

Istanbul: Taksim internet cafe
Tarlabasi Cad. No: 20, Istanbul 80080 Turkey
Phone: 212 237 4298 Fax: 212 237 6372
Email: taksim.internet.cafe@vestelnet.com
Price/Hour: 3,-$ Hours: 24 hours non-stop
16 machine online 2 the internet with 64K internet phone and video conferancing competable machines all net games, surfing tools, irc chat scripst, icq, scanning and printing.

Izmir: Karsiyaka Internet Cafe
URL: http://sci.ege.edu.tr/~ozan/index.htm
Girne Bulvary´ (Deniz Giristhornsi) No:8/A Karsiyaka
Phone: (232)369 45 00
Email: internetcafe@superonline.com
Hours: 09:00 - 23:00 everyday

Izmir: Munlak Computer Internet Cafe
273 Sok. No:3/B Mansuroglu /Bornova
Phone: (232)347 24 64 Fax: (232)347 24 64
Email: idramali@usa.net
Price/Hour: $1/hour
Hours: 09:00 - 24:00

Kusadasi: RED & WHITE STEAK & WINE HOUSE & INTERNET CAFE
Kahramanlar Cad. Mumcu Sok. No:2
Phones: 00 90 (256) 6121827 - 6128505
E-mail: hud01-k@tr-net.net.tr

Kusadasi: cafe net.
Kahramanlar Street. No 57/6
Connection Speed 56.6 Kpbs
URL: http://www.kusadasi.r-org.com.tr/javacafe.htm

Kusadasi: Java Internet Cafe
Riza Sarac Cad. 21
Phone: (256)612 11 14
Email: javacafe@r-org.com.tr
We are serving you with 3 Pentium PCs & 2 Power Macs. Over 40 sorts of herbal teas and other hot drinks, snacks & pizzas...

Da Internet-Cafes an der Küste ständig neu eröffnet und wieder zugemacht werden, kann keine Garantie dafür übernommen werden, dass das beschriebene Cafe auch wirklich noch existiert, wenn man es besuchen will.